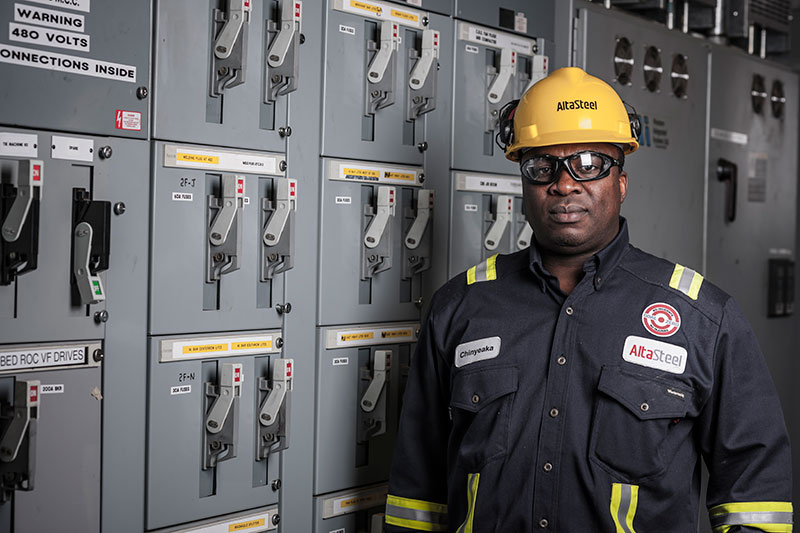 Chinyeaka
Reliability Specialist, Electrical Instrumentation & Controls
I started working with AltaSteel in 2013 and the experience has been something I live to cherish every day. The interview process was professionally conducted and I am really quite happy that this opportunity came to me. I am a graduate of Electrical/Electronics Engineering from Nigeria. I am also a Technologist Graduate in Instrumentation Engineering from the Northern Alberta Institute of Technology (NAIT). Currently, I am enrolled as a Graduate Student (Master Degree) in Electrical Engineering (Power Systems).


I have four children and have been married for nearly 15 years. My family is the most important to me.
Currently, I am an Electrical, Instrumentation and Controls Reliability Specialist, tasked with developing and implementing preventive and predictive maintenance plans in electrical, instrumentation and control systems. This role has given me the opportunity to be part of a great team that strives for continuous improvement within our equipment and maintenance systems.


I enjoy working for AltaSteel because it is a company that will not compromise on safety and provides me the opportunity to work with individuals that come from diverse backgrounds of experience and culture. The Goal Zero Policy is a policy that should be adopted by all industries because it is the right way to live. AltaSteel is committed to providing its employees the adequate trainings in order to improve and be successful in a career.


I will certainly, without any reservation recommend other people to start careers with AltaSteel.