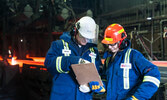 HR Business Partner
AltaSteel is looking for a self-motivated and detail orientated individual to join the Human Resources team as a HR Business Partner. This position reports to the VP, HR & Administration.
Responsibilities
Provide expertise in all areas of HR; including benefits, pension, compensation, performance management, recruitment, onboarding and disability management
Support clients by advising, coordinating, coaching and providing recommendations on a variety of human resource related functions
Develop new or improve existing HR strategies, policies, procedures and practices
Facilitate harassment and performance management investigations as per established process
Assist in the management of HR employee services inbox and telephone line
Prepare financial vouchers for various vendors and submit to Finance for payment
Manage contractors related to HR managed services
Back-up coverage for processing payroll for salaried, hourly and temporary employees
Other administrative duties as required
Qualifications and Experience
Post-secondary degree in Human Resources, or a related field
4-7 years' demonstrated professional experience in Human Resources
Experience with Microsoft Office applications including Outlook, Word, Excel, and SharePoint
Experience working in a unionized environment considered an asset
Experience working with HRIS considered an asset
Meticulous attention to detail
Excellent interpersonal skills
Ability to prioritize, multitask while working effectively independently and in collaboration with others in a fast paced environment tight timelines
Ability to exercise confidentiality, discretion and sound judgement
Excellent verbal and written communication skills
Details
Annual salary based on education, experience, and skills
Competitive total compensation package includes employer paid health benefits and registered pension plan
Full-time, permanent opportunity
Fast paced environment
In person office hours are between 7:30am to 4:30pm, Monday to Friday
This posting will remain open until a suitable candidate is found.
To apply, please fill out the application form below:




Human Resources • AltaSteel Inc.

9401 - 34 Street

Edmonton, AB T6B 2X6








Contact Us



Need help with the application process? Read our helpful FAQ section to find out exactly how to become part of the AltaSteel team!






Learn More