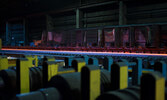 Materials Engineer

AltaSteel is seeking a self-motivated individual to become an essential part of the Quality Assurance team. The successful candidate will be responsible for complex engineering assignments in order to meet the requirements of the business plan, in terms of safety and capability.
Responsibilities
Quality assurance, process control and metallurgical aspects of steel manufacturing
Providing technical support to the operation of steel manufacturing equipment such as the electric arc furnace, ladle furnace and continuous caster
Emphasis will be on process improvement projects to maintain and enhance quality, productivity and reduce costs
Performing statistical studies on process data to identify results
Initiate and oversee projects that have been identified as required by operations as well as provide Metallurgical support to various other projects
Supervise and direct employees and contractors as required, to ensure safety and quality requirements are met
Act as a backup or on-call Supervisor for operations periodically

Qualifications & Skills
Degree in Materials Engineering from an APEGA recognized institution or equivalent
Registered with APEGA as an P.Eng is required.
4 years of Materials Engineering experience
Experience working in a heavy industrial environment
Proven ability to work independently and collaboratively in a multi-disciplinary team
Ability to manage a number of projects and priorities to a timeline and budget, while still realizing project benefits
Eager to learn and take on new challenges
Strong interpersonal and communication skills
Demonstrated responsible attitude towards safety
Demonstrated leadership and problem solving skills
Continually strive to meet our customer goals

Details
Full-time permanent opportunity
Monday to Friday 7:30am to 4:30pm
Full time in-office/operations, in Edmonton Alberta (no remote or hybrid)
Pre-employment alcohol and drug test required with zero tolerance policy
The posting will remain open until a suitable candidate has been found.
| | | | |
| --- | --- | --- | --- |
| To apply, please fill out the application form below: | | Need help with the application process? Read our helpful FAQ section to find out exactly how to become part of the AltaSteel team! | Learn More |