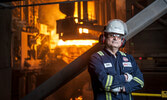 Quality Assurance Manager
AltaSteel is a producer of rolled steel products for the mining, construction, automotive and engineering industries and is located in Edmonton, Alberta. The Quality Assurance Manager reports directly to the Senior VP of Operations. This person will oversee multiple manufacturing units and ensure all quality control objectives are met in both process and product while maintaining the core values of safety and customer satisfaction.
Responsibilities:
Must be able to develop, maintain and grow both internal and external relationships among the operations team, sales team and customers
Possess the ability to openly communicate all steps of process with customer-discuss any issues or anomalies with product
Identify and alleviate any quality issues throughout production and end product
Evaluate data and write reports to validate or indicate deviations from existing standards
Leadership approach should be a balance of directive and collaborative-this person will be open to ideas and input but will ultimately be responsible in making the decisions
Responsible for the final review of all quality documentation prior to release to the client and the managing of the individuals compiling information
Promote quality, ensure processes needed for the Quality Management System (QMS) are established, implemented and maintained
Promote awareness of customer requirements throughout the organization and ensure that the quality control on all projects is managed in a consistent manner
Liaise with the regulatory bodies and ensure compliance
Responsible for leading and assisting the project team members to ensure compliance with the client, industry and internal quality requirements
Perform review of the Quality Management System at planned intervals to ensure its continuing suitability and effectiveness (opportunities for improvement)
Report to Senior Management on the performance of the QMS and any need for improvement
Maintain a complete file of records of QA/QC for all projects
Manage staff, preparing work schedules and assigning specific duties
Recommend modifications to existing quality or production standards to achieve optimum quality
Open to site visits to ensure complete understanding of clients needs-development and improvement
Qualifications:
Bachelor's degree or Technical Diploma in Engineering-Metallurgy/Material Science or Mechanical
Related industry experience with minimum of 6-8 years of QA Leadership managing a team of several quality inspectors. Experience in Ferrous metallurgy preferred.
Proven history of leveraging six sigma/lean principles to achieve high levels of production efficiencies and cost improvements.Well conversant with Statistical tools and statistical quality control and use of sampling methodologies.
Highly motivated, with a demonstrated passion for excellence and taking initiative
Strong work ethic, willing to do what it takes to get the job done right the first time
Demonstrated commitment to ethics and integrity
Ability to travel throughout North America as business requires
Details:
Remuneration for this role consists of a competitive base salary and a short-term incentive program, an amazing benefit program, health spend allowance, defined contribution RPP and opportunity for growth.
This application will remain open until a suitable candidate is found.