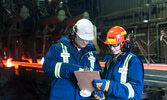 Safety Advisor

AltaSteel is seeking a self-motivated, experienced, individual to become an essential part of the Health, Safety & Environment group. The successful candidate will be responsible for providing advice and support to our field crews and front line supervision to foster a proactive safety approach in support of the organizational safety behaviours and outcomes. The successful candidate will work closely with operations in the plant during their day to day duties.
Responsibilities
Mentor and influence leadership and work teams to develop their safety essential skills and leadership competencies
Assist in implementing safety plans (with emphasis on proactive initiatives)
Active participation in safety networks and associations
Carry out risk assessments and participate in incident investigations
Educate the field teams on the effective use of risk management tools
Encourage safe work practices and compliance with procedures
Deliver safety related training to production teams and individuals as required by the business

Qualifications and Skills
Diploma or certificate in Occupational Health and Safety
CRSP or working towards achieving their CRST/CRSP considered an asset
3-5 years experience in a Health and Safety field related role
Exceptional interpersonal, communication and organizational skills are essential
Outstanding relationship building capabilities and a collaborative working style
A strong team player with superior organizational and project management skills
Strong work ethic, high level of enthusiasm and ability to excel in a flexible, fast paced environment
Taking initiative and having a passion for positive results
Excellent knowledge base of provincial OH&S legislation

Job Details
8 hour work days Monday to Friday
Overtime eligible
Full-time, permanent opportunity
Fast paced environment

The posting will remain open until a suitable candidate is found.
To apply, please fill out the application form below:




Human Resources • AltaSteel Inc.

9401 - 34 Street

Edmonton, AB T5J 2R3








Contact Us



Need help with the application process? Read our helpful FAQ section to find out exactly how to become part of the AltaSteel team!






Learn More